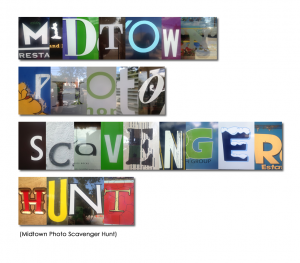 When you attend the Midtown Street Fair this Sunday, September 21 from 1-6pm, presented by the Midtown Business Association (with a tremendous amount of work by the indomitable Laura of the Blue Moon Diner), you MUST play my street game "Midtown Photo Scavenger Hunt". It's gonna be fun!!! Below are rules for the phone-full, and the phone-less.
How to Play (21st Century Rules)
Go to the event on the Facebook page.
Look at the pictures posted in the Scavenger Hunt Album (on Sunday, over-eager peeps!)
See if you can find each of the letters on the West Main Corridor.
Take a picture with yourself in the picture.
Post on the Midtown Charlottesville Facebook Page and/or the Midtown Street Fair event page.
Gloat over your cleverness.
How to Play (20th Century Rules)
Pick up a paper copy of the Scavenger Hunt.
Write the business/location of the photo on the respective line.
Gloat that the NSA probably hasn't been tracking your every footstep for the last hour (at least through your phone).
Go buy a smart phone.
And no, no prizes, just satisfaction and fun. Next year, baby!!
For the Designer Types, there's some further words below.
Purpose
Engage and entertain visitors to the street fair
Encourage visitors to walk the length of Midtown by having photos from all 5-6 blocks
Promote visibility and awareness of businesses
Required Supplies/Resources
Website/Facebook (design, 21st)
Smart phone camera (design, 21st)
Printable copies (20th)
Graphics program for picture cropping/arranging (design)
This was a delightful, relatively lo-fi game to design. As usual, a lot of designing went on in my brain. Initially, I was going to post little plastic figurines around mid-town and allow children to collect them, but that required collecting stuff, and hiding it around the day off– too much work when I knew that there would be plenty of other tasks that morning. I started thinking about the beauty of signage– and then thought– wait the businesses have letters! And then I thought, what could it spell? Ah, Midtown… It then took a brief walk to find fetching letters to illustrate my words!
If you liked this game, remember I am available to design custom games for your special event! Please contact me at info@wigglelearning.com!