I'm an educator, and my personal and professional products center on making people more effective and knowledgeable about anything they might want or need to do. Below are descriptions of specific instructional design related projects.
Logistics 101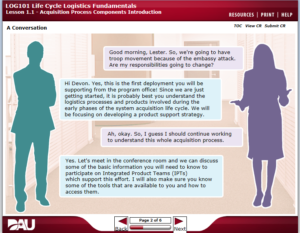 Defense Acquisition University provides all branches of the military with the information needed to effectively acquire the resources needed by the armed forces. Logistics 101 is an entry level course for all personnel interested in pursuing careers in acquisitions, engineering and logistics. I, in collaboration with our team, met the stated needs of reducing seat time without compromising learning objectives and increased learning engagement. Our solution resulted in rewriting enabling learning objectives, and restructuring the course, reducing seat time by 20%. We used narrative structures for learners to make real-life connections to the content. In-course assessments used the narrative to create more authentic assessments, and encouraged critical thinking rather than rote memorization. Further information can be found here. 
Credit Card Compliance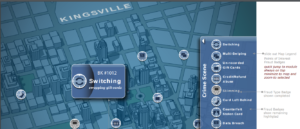 Burger King had a need to train busy restaurant managers on the real dangers of credit card fraud. Previous iterations of the credit card compliance course consisted of over 100 slides of confusing content with little scaffolding or narrative. I did a complete course analysis, identifying threats as either internal (employees), external (customers), or digital (internet security breaches). We built an interactive non-linear scenario that clearly established definitions, consequences, and prevention for each type of fraud. The learner was tested on content through use of game play that reinforced learning objectives.Further information can be found here. 
Computers4Kids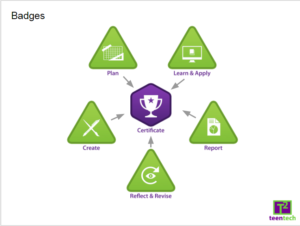 For 6 years, I was the program director of a Charlottesville grassroots nonprofit serving low-income youth with mentoring and technology training. I was responsible for designing, selecting and implementing all program components, from student, staff and volunteer training, activities, data collection and evaluation. During my tenure, student participation and retention increased each year, with commiserate volunteer engagement. Additionally, my "Teen Tech Badges" curriculum was one of 64 finalists out of 500 applicants for the MacArthur Foundation's Digital Media and Learning Competition to create badging systems for out-of-school learning. The winners of the competition included Disney, Microsoft and the Smithsonian. Further information can be found here. 
Run the Lawn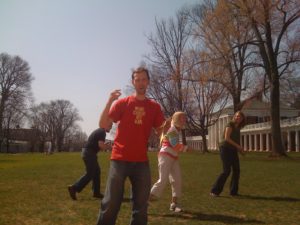 Run the Lawn is a "street game" commissioned by the Educational Gaming course at the University of Virginia. Street games are open air games that use public spaces as their venue. Successful street games, like Run the Lawn allow players to experience a particular space in a new way. I used the 6 activity modes first proposed in my dissertation as the organizing structure for this game. Players engaged in Explorative, Problem-Solving, Strategic, Creative, Social, and Active Play throughout the hour and a half game. For more information about the 6 activity modes read here.
Daily Dining Decisions
Master-designer Chuck Petranek and I collaboratively designed the Daily Dining Decisions simulation to address the disordered eating that observed with my middle-school students. Through an iterative process we identified the core components that would create an authentic representation of 3 days within 90 minutes. Participants have choices to make about eating at three meals, plus a late night snack for each of 3 rounds. Debriefing happens after each round to analyze participant behavior and to discuss ideas with others. For further discussion of this simulation read this post.